New Principal appointment at Campton Academy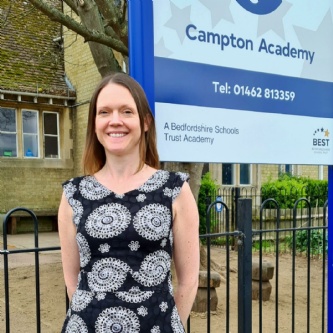 We are delighted to announce that Sarah Fraher has been appointed as permanent Principal of Campton Academy.
Mrs Fraher, pictured, who has been the school's interim Principal since January 2021, was appointed following a comprehensive and rigorous recruitment process.
Having initially joined the school in 2006 as an NQT, teaching Year 2, Mrs Fraher has also been the school's SENDCo since 2014.
The appointment was announced to parents in a letter issued today by Chair of Governors Akhtar Ahamed and BEST Chief Executive Officer Dr Alan Lee.
In it, they wrote: "Mrs Fraher impressed members of the student council, Governors and Directors with her clear and compelling vision to lead Campton Academy through to Primary status.
"As you will know, Mrs Fraher has been Interim Principal since January 2021. During this time, she has led the school with great professionalism, commitment and care.
"Mrs Fraher insists on the highest standards, prioritises staff wellbeing and strives to ensure all children get the very best."
They added: "When all members of our community – students, parents/carers, staff – pull together, there is no limit to what we may achieve. Together, under Sarah's leadership, the future for Campton Academy is very exciting indeed."
Mrs Fraher said: "I am absolutely delighted to have been appointed as the permanent Principal of Campton Academy. It is an honour and a privilege to lead such an amazing school.
"We have a very exciting future ahead of us and with the continued support of our staff, pupils, families and BEST I have no doubt it will a very successful one, too."