UK heatwave: The Great Gothic Mede Academy Water Fight!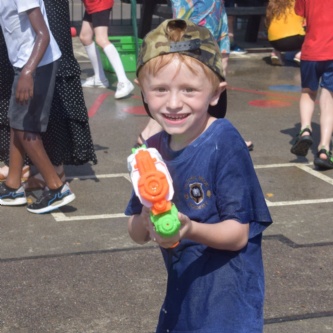 Pupils and staff at Gothic Mede Academy have come up with a novel way of combatting this week's record-breaking temperatures – a mass playground water fight!
With the UK currently sweltering in an unprecedented heatwave the school has introduced a number of measures to help everyone keep as cool as possible.
This has included pupils coming to school in their PE kits instead of normal uniform, classes all having a daily slot in the school's air-conditioned library and ICT suite, and staff regularly checking children are staying hydrated by drinking water regularly.
And today (Tuesday 19 July) the school introduced a fun way to stay cool in the heat – The Great Gothic Mede Academy Water Fight!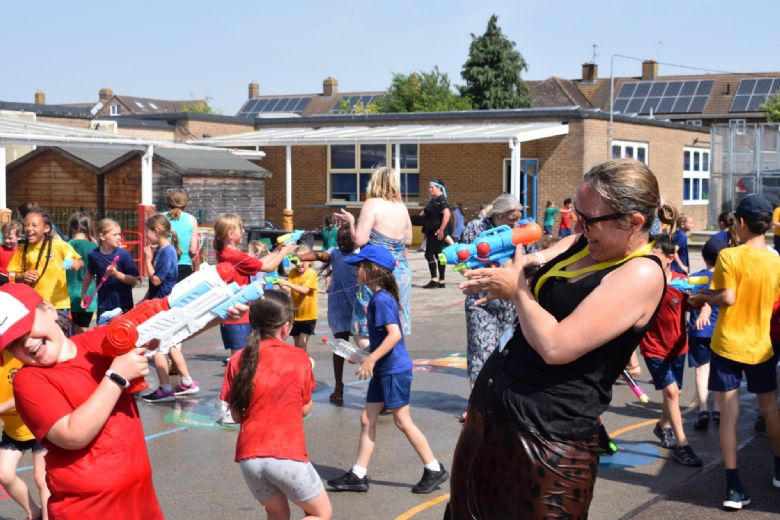 Parents were encouraged to send their children to school with any water pistols they had and, during the morning breaktime, staff and pupils all gathered on the playground for a good soaking.
For those who didn't own a water pistol, they armed themselves instead with other containers and vessels with which to join in the fun.
Principal Tom Clarke, pictured below, said: "It's been a hot start to the week and we've had to change a lot to keep the children cool and safe.
"I wanted to find the silver lining though and give the children an experience that they'd never forget.
"They don't often get the chance to drench their teachers and headteacher with water and everyone had so much fun. Even our kitchen staff joined in!"
See more photos on the school's Facebook page >>